Tashin, Iraq
"Everything I've got is here."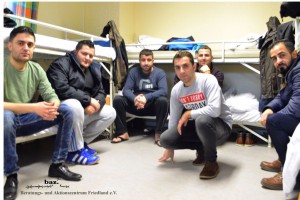 I came here 3 weeks ago. I am yezidish. Our people live in Iraq and in Syria. I live here with my uncle and friends I met here. We are all yezidish. We speak arabic together, but some of us know also kurdish and I can also speak english. One of my friends is here for 4 months already. How can that be? He is waiting to get his transfer every day, but nothing happened since september. On the weekend the security came to our house. We were not here and they just locked us out! Then they came back and said we would have to leave this house and go to stay somewhere else. We really don't want to move to another house, we are happy here!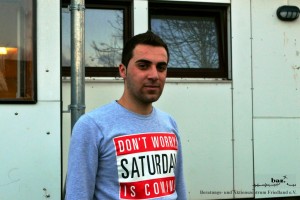 I like everything here in Germany. I even like the food! We don't have a home anymore, just this camp. We would like to go and see other places, like Hanover, but then where should we sleep?
But the main thing is I have a life here. In Iraq I don't have anything anymore. The only thing I have is here. I don't care if I have a transfer. I want a life, that's all. Every day I go to school to learn German in Göttingen. When I was a kid, I used to go to school. Then I couldn't finish it because I am yezidish and they didn't let me. The first thing I want to accomplish here is to finish my school. Then I would do any job just to live in peace here. I don't ever want to go back to Iraq. I don't think the situation is ever going to be better there. At least not for yezidish and Christian people.